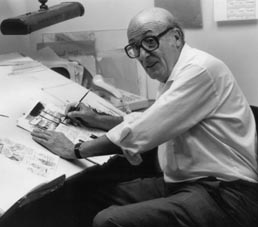 I'm surprised I haven't run across this earlier, but comic legend Will Eisner, creator of The Spirit, has passed away. You can read more about it here. I can still remember going to my first San Diego Comicon back in 1992, walking around the cavernous convention hall, then stumbling across a table with just one person chatting with an elderly man. I looked at the name on the table and it was Will Eisner! It's a bit morbid to say now, but I thought he was dead already. It was so exciting getting to meet a true living legend, and his groundbreaking Comics & Sequential Art book was the only one of its kind, at the time, to really break down the craft of telling a story in comic form. He was very nice and genuinely warm. Over the years I would take a picture here and there, but the last time I got out to the con was in 1999. In any case, both his books, Comics & Sequential Art and Graphic Storytelling are well worth picking up if you've ever had a desire to create a comic or just appreciate more about the art form.
In related news, Bill Liebowitz , the owner and operator of my childhood comic book store Golden Apple, had also passed away. I read about it rather late (he passed October of last year), but it brought back great memories of going to the Golden Apple comic book store every Thursday with my dad to get a batch of comics. My dad was a bit tight fisted when it came to buying me toys, but he loves books in all forms and I was free to purchase them to my hearts content (within reason). That included comic books, which makes sense considering manga in Japan is read by folks of all ages. Little did he know the US market was packed with just super hero tales. I still go to the store almost every time I travel back to LA, so it was especially sad knowing the news and walking around the store this past holiday season. I highly recommend you check it out whenever you're in LA.

Of course the massive devastation in Asia is on a far greater scale of tragedy. A disaster of this magnitude is just hard to take in and fully wrap your head around. The death toll is still expected to climb, which is just unreal. I've donated a bit already, but I plan to do more soon. Everyone is worried that donations will dry up after this initial rush so that's when I'll pitch in some extra. It's already set aside so no new DVDs or games for the next few weeks.